Stanton Opinion: 'We Walk in Beauty'
Gary Auerbach is a dinosaur in a digital world, producing rare and luminous platinum photographs through a painstaking, antiquated process....

Read 1/16/08 Tucson Citizen Article Here
The Making of Polaroid Image Transfers
by Gary Auerbach
Read the Article
Alternativephotography.com can be found on the live link at the bottom of the page

Going Platinum review on Gary Auerbach
by MARGARET REGAN
Tucson Weekly
See the Story
Artist Spectrum review on Gary Auerbach
by Julie Wilson
Oct/Nov/Dec 2007
See the Story
A Life in Pictures
Today's Chiropractic Lifestyle
Read the Article
Fine Art photography
by Rabino
November 2005
Read the article
Accounting Alum Finds Success as Master Photographer
The Eller Times
December 2002
Read the article

Images Made to Last
Marcia Battle
July 2002
Focale Photographie (Also in French)

Amerind Introduction
John A. Ware
July 2002
Focale Photographie (Also in French)

Platinum Bond
Mae Lee Sun
May 2002
The Tucson Weekly

Interview with Gary Auerbach
October 2001
The Scream Online
What is it about Large-Format Cameras?
Lorraine Darconte
August 2001
Studio Photography and Design
Platinum Printmaking made simple
Gary Auerbach
Gary Auerbach Platinum Photography

The Permanence of Platinum
Lorraine Darconte
August 2000
Rangefinder Magazine

Platinum Photography: An Interview With Gary Auerbach
Michelle Mullen
November 18, 1999
Suite101

Pictures for posterity
James Reel
October 28, 1998
The Arizona Daily Star
Other Articles on Platinum Printmaking
The Eighth Metal: the Rise of the Platinotype Process
Mike Ware
Read The Article
The Platinum Print - A Catalyst for Discussion
A treatise by Taylor Whitney
May 2005
Read The Article
---
Gallery show features images just before Old Tucson fire
RICK WILEY / ARIZONA DAILY STAR | August 12, 2014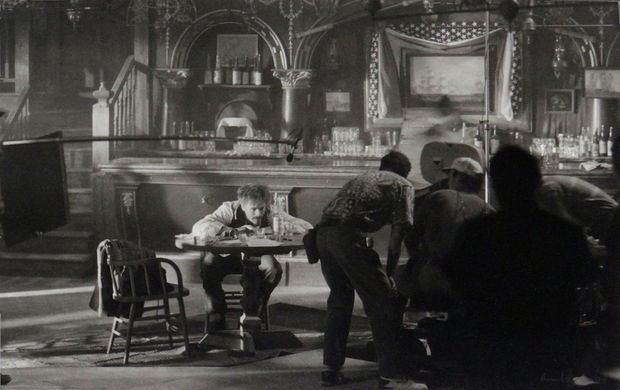 Platinum photograph of Richard Dean Anderson (MacGyver) in the bar at the Old Tucson Sound Stage during the filming of 'Birth of Legends'. Last photograph taken on the set before it burned down one week later. (April, 1995) 8x10 negative, Paramount Pictures). Photo by Gary Auerbach
Tucson photographer Gary Auerbach will have a solo exhibition covering 30 years of work at the Rancho Linda Vista Gallery in Oracle. Opening reception is 1 – 5pm, Sunday, Sept. 7. Exhibit runs Sept. 1 – 30.
Subjects include some of the last photographs taken on the sound stage and sets at Old Tucson before many of the original buildings at the historic movie studio burned in a massive fire in 1995.
The images showcase a variety of printing methods from 8x10 and 11x14 large format negatives. Auerbach says they include platinum/palladium, Cibachrome, cyanotype, gum bichromate and even stereoscopic platinum among others.