---
Harrison Begay, Navajo
---
Do you have a specific memory that stands out in your mind when you were young?
"When I was four years old, my first trip in a wagon "buggy" to a trading post with my parents. I was with my older brother (6 years) and my little sister (2 years). It was spring time. My family had sheep and goats at home. My main happiness and joy was being around the little ranch with little lambs and little baby billy goats. Mostly, I liked a little brown puppy, a boy pup. He grew up and was a good sheepherder. A good strong dog and good defender of the sheep in keeping the coyote away. Then I learned to ride horses, and I found one that I liked, and he liked me also. I rode him for herding sheep, and fed him lots of corn that my parents raised. At the age of seven years, I went to school at Fort Defiance, Arizona."
How is your life different from your parents or grandparents?
"After going to school, I did not have much time to be with my parents. My mother died before I went to school. I only went back home in the summer for a while. Then my father married again. I had tuberculosis. I spent about three years in the hospital. I continued studying while in the hospital, but finally ran away back to my home. I helped my father and my stepmother for a couple years, then left and went back to the school. I was about 18 years old then. Finishing high school, I then went to college for one year. I married just before entering the army, and three years after getting married, my wife died."
What traditions from the past do you still continue to practice?
"Having seen some pueblo ceremonial paintings by Fred Kabotie (Hopi), for the first time at the Santa Fe Art Museum, I became interested in painting. In the year 1940, I began to study at the Santa Fe Indian Art School. The Santa Fe Indian Art School taught a lot of good Indian artists. Navajo, Apaches, Pueblos and other tribes learned Indian arts. Becoming well known are Allan Houser, Gerald Nailor, Ben Quintana, Joe Herrera, Quincy Tohoma and others. Art teacher, Dorothy Dunn (white woman) was a very good teacher and helped a great deal to promote Indian art, especially paintings. Now there are many good Indian artists, painters, sculptors, silversmiths and others. With the encouragement and help from the Navajo Tribal government, many Navajo artists have established their own studios or shops."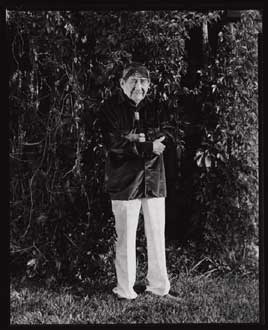 Native name: HASKAY YAHNE YAH
Given name: Harrison Begay
Date of birth: Not recorded. My parents did not have a calendar. They only know I was born in the fall of the year 1914. So my date of birth — I made it November 15, 1914.
Place of birth: Navajo County, White Cone, Arizona
Tribe: Navajo
Maternal clan: Zuni Clan, White Corn
Paternal clan: Walk Around Clan / Near Water Clan
Year photograph was taken: 2002